Vancouver Giants Alumni Update Part 6/6
Milan Lucic (24 years)
Definitely a fan favourite during his time in Vancouver, Lucic might just be the most accomplished Giant alumni of all. After leading the 2007 Giants to a Memorial Cup, he was named the next team captain for the 07-08 season. But as it turned out, he made the Bruins right out of training camp, and a few years later helped steal the Stanley Cup out of the Canucks hands in 2011. He has been a cornerstone for the team now for 5 years. The Bruins obviously got a steal picking him 50th overall in the 2006 draft. In 2012-13, Lucic is entering his third and final year of a contract worth $12.25 million.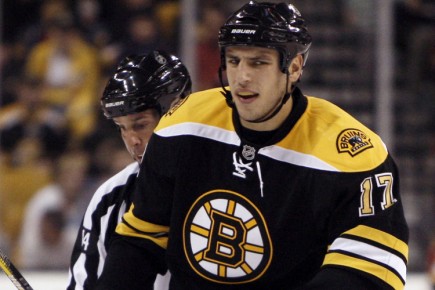 Brendan Mikkelson (25 years)
Another member of the 2007 Memorial Cup-winning squad, after bouncing around between the AHL and NHL since the 07-08 season, Mikkelson seems to have rounded into form and found his permanent place in the NHL. Following his time with the Anaheim Ducks and Calgary Flames, last season Brendan appeared in 41 games for the Tampa Bay Lightning. Despite just 3 points, this defensive defenseman proved himself enough to earn a 1-year extension worth $600,000 with the Lightning for 2012-13.
Casey Pierro-Zabotel (24 years)
116 points in 55 games with Merritt in the BCHL in 2006-07, 16 points in 9 games (over 2 years) for Team Canada West at the World Junior A Challenge, and then 115 points in 72 games with the Giants in the WHL to lead the league in scoring in 2008-09. There's no denying that Zabotel has god-given talent and is one of the best Giants of all-time. The 3rd round pick of the Pittsburgh Penguins hasn't yet been able to make the strides expected of him once he turned pro. In 2009-10, after 1 assist in his first 9 games with the Penguins AHL affiliate, Wilkes-Barre, he was sent to the ECHL. Despite decent numbers with the Wheeling Nailers and Cincinnati Cyclones, last year Zabotel picked up 35 points in 71 games for the Bakersfield Condors. It also marked the end of his 3-year entry level contract. The Pittsburgh Penguins did not give him a qualifying offer and he is currently an unrestricted free agent.
Kevin Connauton (22 years)
Along with Mario Bliznak, Kevin is the only other Giant to be drafted by the Canucks, though he was drafted out of Western Michigan University. After leaving Western Michigan in 2008-09, Connauton joined the Giants in 2009-10 and set the single season team record for points by a defenseman with 72 in just 69 games. That prompted the Canucks to sign their 3rd round pick to a 3-year entry level deal worth $2.045 million at the NHL level. However, Connauton spent the last 2 years with the Canucks AHL farm team, first with Manitoba, then with Chicago last year, where he put up an impressive 33 points in 71 games. Now entering the last year of his entry deal, it sounds like the Canucks have significant interest in keeping Connauton in the NHL.
Brendan Gallagher
It's hard to even call him an alumni at this point, as Gallagher is still eligible to play in the WHL this coming season, and is an absolute lock to be on the team… if the Giants were so lucky. After a phenomenal season last year scoring 41 goals and 77 points in just 54 games, Gallagher set the all-time Giants record for career goals and career points (Included 3 straight seasons of 40 or more goals). In November, he was signed to a 3-year entry level deal worth $2.145 million at the NHL level. After a campaign like last year, it wouldn't be shocking to see Gallagher slap on a Canadiens jersey in 2012-13. But even if there is an NHL lockout, it is very likely that Gallagher will play with the Habs AHL affiliate in Hamilton. And expect him to make an impact.